A monthly digital newsletter filled with news, information, updates and offers for Landcarers
By the Goolwa to Wellington Local Action Planning Association This project is delivered as a partnership between Landcare Australia and the Goolwa to Wellington Local Action Planning Association to buffer and link remnant areas of Environment Protection and...
read more
For 12 years, Sam Graham and his father have managed their dairy farm on the New South Wales South coast where they have 800 Aussie Reds, 400 of those milked. The breed is ideally suited to the climate and produce a high protein milk. While the cows are climatically...
read more
In South Australia, the Goolwa to Wellington Local Action Planning Association (GWLAP) is currently delivering a large scale revegetation project through the 20 Million Trees program with Landcare Australia. Creating critical catchment to coast connectivity, will...
read more
Sweet potato growers in Papua New Guinea (PNG) & farmlands of Australia share an interest in plant viruses. A long-standing partnership between researchers in Australia, PNG, & Peru, supported by the Australian Centre for International Agricultural Research, is providing them with disease-free planting material.
read more
By John Harvey Technology's transformative potential for the agriculture industry all comes down to innovation and investment. John Harvey, managing director of Rural Industries Research and Development Corporation (RIRDC), says innovation will continue to create new...
read more
Landcare Australia's direct seeding lines from 2016 are thriving on Dakalanta Wildlife Sanctuary Dakalanta Wildlife Sanctuary covers 13,600 hectares and occupies a strategically important location on Eyre Peninsula, South Australia. In partnership with Australian...
read more
By the Western Port Catchment Landcare Network The latest 'Australian Organic Market Report' reveals the nation's organic industry is worth $1.72 billion, and growing by over 15 percent each year. This has created challenges for organic farmers who are trying to meet...
read more
By Greg Siepen A rare plant has been discovered by the Tyamolum Scout Centre in Queensland. On a planting and weed removal project on property in Mount Crosby, volunteers recorded the location of over 100 rare Lloyd's native olive plants. This plant only grows in the...
read more
Saving our iconic Aussie species was Bob Hawke's birthday wish this year. At the unveiling of his remoulded wax hand that now holds a can of his own beer, Hawke's Lager, the former Prime Minister called on the Australian public to help out Landcare groups working to...
read more
Landcare Australia has partnered with Play For Purpose, the ultimate win-win charity lottery, which launched this week across Australia with $1 million worth of prizes. With 60% of ticket sales going directly to Landcare Australia and a one in 19 chance of winning a...
read more
By Meg Strang, NSW Department of Primary Industries The Quigley family at Nevertire in western New South Wales has made some big changes in recent years to the way they run their farming operations – and they're not alone. Throughout the local irrigation community,...
read more
By Chris Gillies Your neighbour need not be over the fence, according to rangeland grazier Gus Whyte. With social media, the web, and email Gus has created a network of graziers that share information in order to improve the way they manage the land. This different...
read more
By Assistant Minister for Agriculture and Water Resources, the Hon. Luke Hartsuyker The Australian Government is investing more than $1 billion into the future of the National Landcare Program (NLP). In September, the Coalition Government launched the next phase of...
read more
By Western Local Land Services Pest animals in the Gilgunnia, New South Wales area have been left on the outer by landholders involved in the Gilgunnia Cluster Fencing Project. This project, which resulted in a total pest exclusion fence of 210 km being erected around...
read more
As part of the Australian Government's $1 billion investment into the next phase of the National Landcare Programme, farmers, fishers and community groups will soon be 'farming smarter' thanks to $134 million for a landmark new program Smart Farms. Applications for...
read more
By Julie Reid Jiggi Catchment Landcare group (JCLG) is one of the more established Landcare groups on the North Coast of NSW. The group formed in 1992 while the alternative movement of the 'Rainbow Region' was at its peak. Unlike rural communities that were coming...
read more
By Peter Alexander Rabbits have been around for so long that some city folk think of them as native animals. But prior to the release of myxomatosis in 1951, they were Australia's most serious pest animal. South Australian grazier, Landcarer, and author Bruce Munday...
read more
In 2009, during a period of waterway restoration and willow tree removal at Melbourne Water, a joint-riparian restoration project was established with Vic Roads in Ballarat. This was initiated to clean up and restore a 500 metre section of degraded waterway along the...
read more
It was great to see corporate Australia getting hands on with Landcare across the country to celebrate Landcare Week earlier this month. More than 130 volunteers from 10 companies sent teams of volunteers along to lend a hand to Landcare working bees in Sydney,...
read more
Unproductive sand dunes in the Coorong, Murraylands and Riverland regions of South Australia will soon be transformed into sustainable timber forests, thanks to a joint project by Landcare Australia and the Australian Home Heating Association (AHHA). The AHHA...
read more
The 2017 State & Territory Landcare Awards have kicked off with winners being announced in Victoria, Western Australia and South Australia. It's wonderful to see the successes of Landcare being recognised across nine diverse national categories! This year, 124...
read more
We want to put you on the edge for wildlife on the edge of extinction. What does this mean exactly? We want you to have fun, get your friends involved and save our wildlife. We have teamed up with Edge Pledge (www.edgepledge.com) and we are asking for 10 of our...
read more
Polyfaces is an Australian-made, award winning documentary featuring the well-known Salatin family. It explores their four generational story of farming regeneratively whilst feeding over 6,000 families within a 300km radius. Made by the Heenan Doherty family, who...
read more
A significant Landcare project that has been taking place at Tyamolum, Mt Crosby in Queensland, since late 2015 has been completed. Funded under an Everyone's Environment Grant provided by the Queensland Government, the project has seen the removal of at least 20...
read more
Did you know that employees from Telstra, Konica Minolta and Qantas helped save endangered species, including the southern cassowary, mahogany glider, and koala – without even leaving their desks? These are just three of the 23 companies that give to Landcare...
read more
Wild dogs are a significant problem in western New South Wales, preying on livestock and causing losses to productivity and profitability at the farm gate. Just recently, Western Local Land Services, in partnership with 14 Landcare and pest animal control groups,...
read more
Landcare Australia recently gave out eight grants in support of sustainable agriculture work being implemented by Landcare groups across the country. Well done to the recipients for their excellent applications and for their commitment in doing this valuable work to...
read more
We would like to thank everyone who responded to the survey for their invaluable feedback. Hearing from you, our loyal readers, continually helps us improve the content and structure for future editions of Landlink. We want this newsletter to be an invaluable resource...
read more
Linda Walters, Birchip Cropping Group The Growth, Adoption, Production and Profit (GAPP) program has been a three-year pilot project funded by Agriculture Victoria and the Birchip Cropping Group (BCG) aimed at increasing on farm production and profitability,...
read more
Entries are now open for the 2017 Fire Awareness Awards, with individuals, community groups and organisations encouraged to submit innovative projects that help reduce the incidence and impact of fire in Victoria. The awards are a collaborative initiative managed by...
read more
A recently completed major bush regeneration project in Sydney saw an impenetrable five hectare forest of weeds transformed to a native bushland with 64,000 native seedlings. Managed by Landcare Australia, the project was part of Transurban's roadside regeneration...
read more
Landcare Week is the one special week every year when we celebrate Landcare and all the great work tens of thousands of Landcarers do to care for their local environment. It's the perfect time to get involved – whatever way you can. This year Landcare Week takes...
read more
Landcare Week (4-10 September) is an opportunity to get hands-on with nature and create a fundraiser to help  habitat restoration projects that protect our unique Aussie species. We are supporting schools, community groups and workplaces to come up with ideas that...
read more
Tranche 3 of the 20 Million Trees Programme is now open! $21 million in funding is available for large scale tree-planting projects covering a minimum of 100 hectares. Participation offers you the opportunity to work in partnership with Landcare Australia to complete...
read more
The volunteer who always goes above and beyond for their group. The farmer working tirelessly to implement sustainable farm practices. The team who works to educate the next generation. The young leader inspiring others. The innovators. The Coastcarers. The Indigenous...
read more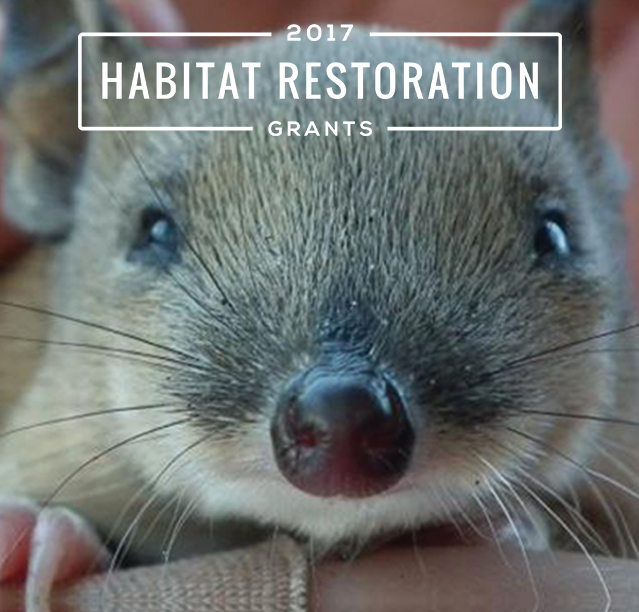 Landcare Australia is pleased to announce that 10 Habitat Restoration Grants have been awarded to groups and organisations around Australia. Each grant will go towards projects that are protecting the habitats of our native animals, including those that are threatened...
read more
Do you know a deserving Landcare community leader who should be recognised? The 2017 State & Territory Landcare Awards have opened up nominations in each state, but deadlines are fast approaching! The Awards are an opportunity to celebrate and acknowledge the...
read more
"After 17 years volunteering as part of the Landcare community, I still get the wow factor on accomplishing something wonderful, especially after planting eucalypt trees four years ago and seeing koalas come back to the area. There is a sense of self-worth and...
read more
Help us serve our community by telling us want you want! Your participation in our annual survey will only take a few minutes of your time, and will help us deliver content that better suits your needs. But hurry, the survey closes at midnight on 12 July. All...
read more
By Vivienne Reiner, Sydney University This year marks an incredible milestone as we celebrate 20 years of Landcare at the University of Sydney at Arthursleigh – a favourite escape for our student Landcarers. To mark the 20th birthday of our Landcare Society –...
read more
Australian media was abuzz earlier this month when a new beer and brewing company named after former Prime Minister, Bob Hawke, was launched. A percentage of profits from the sales of the company's first product, Hawke's Lager, will go to Landcare Australia, which has...
read more
The Bellarine Rail Trail in Victoria contains the Bellarine Peninsula's last patches of remnant vegetation, with flora species that can be found nowhere else on the Bellarine, plus a vibrant bird life which is unique to the area. But that rich diversity is under...
read more
High intensity storm and cyclone rains followed by long periods of drought have taken their toll on infrastructure and farm lands in South Burnett, Queensland recently. The resulting soil erosion events are substantial and have not been seen by locals in half a...
read more
Removing non-native weeds in Melbourne's Westgate Park, upgrading a koala enclosure, and revegetation with more than 2,500 plants in South Australia and Victoria, are some of the activities funded through Holden's partnership with Landcare Australia this year.
read more
Since the introduction of the European carp into the Numeralla River, water quality and recreational fishing opportunities have been on the decline. What was once a beautiful, clear mountain stream with an abundance of trout has now become one with high turbidity and a monoculture of carp.
read more
Ben Poggioli is a multi-crop farmer of up to 250 hectares of peanuts, corn, pumpkin, hay and sugar cane in the Barron region of Queensland.
read more
A major bush rehabilitation and water quality improvement project is well underway alongside Sydney's M2 Motorway at Macquarie Park.
read more
The aim of Landcare Australia's Summer Raffle is to raise funds to support Landcare community projects throughout Australia.
read more
Did you know that Australia has the worst mammal extinction rate in the world? Thirty native mammals have become extinct since European settlement.
read more
International Women's Day celebrates the social, economic, cultural and political achievements of women, and Landcare has an abundance of inspirational and passionate women at its heart.
read more